zeitkratzer / Svetlana Spajić / Dragana Tomić / Obrad Milić – Serbian War Songs
Format: 180gr double LP incl. DL code + insert , 300 items
Release date: june 16th 2017
zeitkratzer and its special guests SVETLANA SPAJIĆ (voice), DRAGANA TOMIĆ (voice) and OBRAD MILIĆ (voice, diple, gusle) present traditional Serbian songs from and about World War I.
Within its 20 years of existence, REINHOLD FRIEDL's ensemble zeitkratzer has proved its interpretatory mastership on a wide range of fields such as contemporary / avant-garde composers, electronic artists, industrial underground – and, probably most surprising on this list, also in traditional music / folklore as documented on the two albums "Volksmusik" and "Neue Volksmusik" . For "Serbian War Songs", a selection of traditional songs from and about World War I, the "modern composition supergroup" (THE WIRE) have invited some special guests: the renowned singers SVETLANA SPAJIĆ and DRAGANA TOMIĆ (who both worked a.o. with ROBERT WILSON) and the diple / gusle player OBRAD MILIĆ. REINHOLD FRIEDL and SVETLANA SPAJIĆ (probably the most acknowledged expert for traditional songs in Serbia) selected some traditional Serbian songs from and about World War I, and OBRAD MILIĆ contributes "Assassination In Sarajevo", a song in the classic epic form he had learnt from his father Bogdan, a famous gusla player at the beginning of the 20th century. Commissioned by Berlin's Haus Der Kulturen Der Welt, the performance was recorded and mixed by longtime zeitkratzer sound engineer MARTIN WURMNEST and mastered by MIKE GRINSER at D&M.
zeitkratzer
directed by Reinhold Friedl
Frank Gratkowski, bassclarinet, clarinet I Hild Sofie Tafjord, french horn I Hilary Jeffery, trombone I Reinhold Friedl, piano I Maurice de Martin, drums, percussion I Lisa Marie Landgraf, violin I Burkhard Schlothauer, violin I Nora Krahl, violoncello I Ulrich Phillipp, doublebass
+
special guests:
Svetlana Spajić, voice
Dragana Tomić, voice
Obrad Milić, voice, diple, gusle
recorded and mixed by Martin Wurmnest at Haus der Kulturen der Welt, Berlin, January 16, 2016
produced by Reinhold Friedl
mastered by Mike Grinser at D&M, Berlin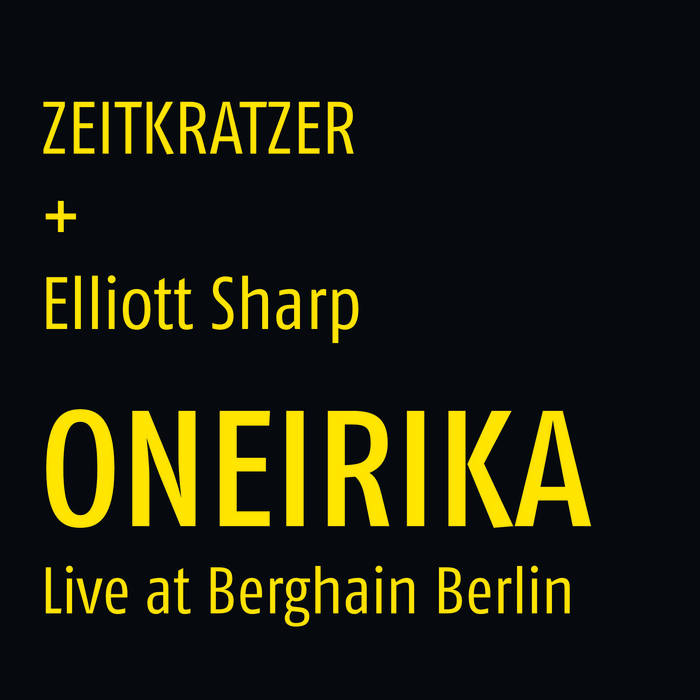 zeitkratzer + ELLIOTT SHARP – Oneirika

Format: 180gr double LP incl. DL code, gatefold sleeve , 300 items
Release date: june 16th 2017
REINHOLD FRIEDL's zeitkratzer proves the perfect ensemble for "Oneirika", avantgarde-veteran ELLIOTT SHARP's composition / soundscape inspired by CAGE-an tradition that premiered at MAERZMUSIK FESTIVAL 2014.
zeitkratzer worked with ELLIOTT SHARP for the first time already in 1997 and have since then been releasing several cooperations, including 2 duo releases of zeitkratzer mastermind REINHOLD FRIEDL and ELLIOTT SHARP. Over the last 40 years the avant-garde musician has created an immense oeuvre: he has performed and recorded with a.o. JOHN ZORN, BILL LASWELL, ZEENA PARKINS, JOEY BARON, DAVID TORN and runs his own formation CARBON. SHARP also composed for the SOLDIER STRING QUARTET, the AMERICAN COMPOSER'S ORCHESTRA or the SYMPHONIC ORCHSTRA of HESSISCHER RUNDFUNK (the New Yorker actually studied with MORTON FELDMAN and ROWELL RUDD). "Oneirika", named after the greek waking dream, is inspired by the CAGE-an tradition and, with its score making use of SHARP's innovative method to filter and process his self-generated musical manuscripts via Photoshop, leaves a great interpretatory latitude to the performers. A perfect subject for an ensemble of the calibre of zeitkratzer who are able to translate from a frequency of light and image into sound and motion. It also fits perfectly with zeitkratzer's sound philosophy: high-quality amplification of acoustic instruments! "Oneirika" was commissioned by Berlin`s Maerzmusik Festival and premiered in 2014 at the Berghain, Berlin. Recorded by MARTIN WURMNEST , mixed by RALF MEINZ, mastered & cut by MIKE GRINSER at D&M.
zeitkratzer
directed by Reinhold Friedl
Frank Gratkowski, bassclarinet I Matthew Davis, trumpet I Hilary Jeffery, trombone I Reinhold Friedl, piano I Marc Weiser, guitar I Maurice de Martin, drums I Burkhard Schlothauer, violin I Anton Lukoszevieze, violoncello I Ulrich Phillipp, doublebass
special guest: Elliott Sharp, tenor saxophone, electric guitar, conduction
recorded live by Martin Wurmnest at Maerzmusik Festival 2014, Berghain Berlin
mixed by Ralf Meinz     produced by Reinhold Friedl
mastered by Mike Grinser at D&M, Berlin