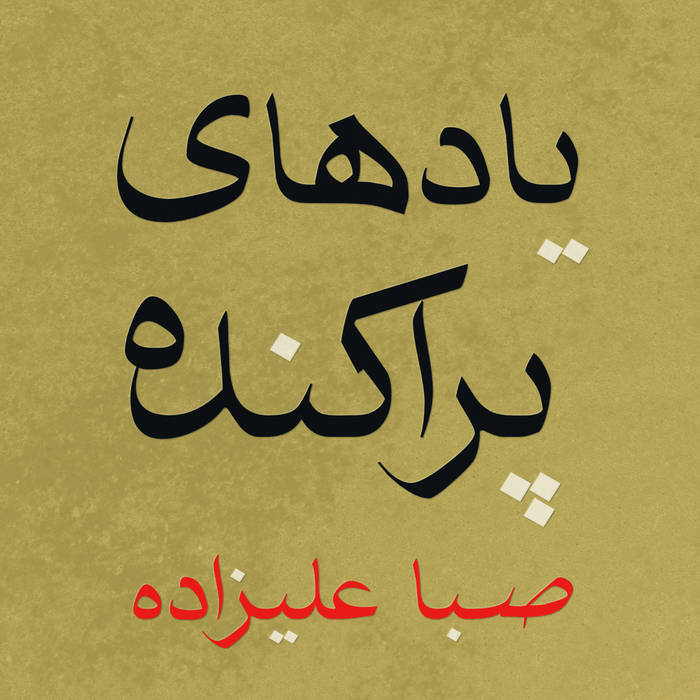 SABA ALIZADEH – Scattered Memories

Format: LP  / download
Release date: february 15th 2019
On his debut album "Scattered Memories", the composer, musician and true master on the Iranian spike fiddle kamancheh SABA ALIZADEH blends his instrumental virtuosity with spherical electronics, samples of Persian music instruments and field recordings from his hometown Tehran. 
Born in Tehran in 1983 as son of the world renowned Tar and Setar virtuoso HOSSEIN ALIZADEH, SABA ALIZADEH studied the Iranian spike fiddle with SAEED FARAJPOURY and KEYHAN KALHOR plus photography and later experimental sound art with MARK TRAYLE at the California Institute of the Arts, Los Angeles. His musical activities that lead him all around the globe for performances (a.o. at Carnegie Hall) branch into 2 different areas: on the one side ALIZADEH is a highly reputated virtuoso on his traditional instrument, on the other he likes to approach music from a more experimental / technological aspect in his electronic / electro-acoustic pieces. This not being enough, he founded Noise Works in 2014, a platform and label for organizing experimental concerts and for the transfer of knowledge of music technologies among young Iranian musicians which makes him a central figure at the forefront of the current, very vivid Persian music scene that gained a lot of attention through artists like SIAVASH AMINI, PORYA HATAMI and of course SOTE who included a track by ALIZADEH on the compilation "Girih: Iranian Sound Artists" that he had curated.
In 2018, ALIZADEH self-released his debut "Scattered Memories" on CD in Iran which now, in a reworked version, sees its deserved world-wide release as LP and DL. Over the course of 10 tracks ALIZADEH melts his 2 musical worlds into 1: tradition meets modernism, eastern sounds meet western production, folklore meets contemporary electronics. An album that will appeal to an open-minded "world music" audience as well as fans of current streams like ambient or drone in its most subtle forms.
BENJAMIN FINGER / JAMES PLOTKIN / MIA ZABELKA – Pleasure-Voltage

Format: LP  / download
Release date: february 15th 2019
BENJAMIN FINGER, JAMES PLOTKIN and MIA ZABELKA craft a mesmerizing sonic world that buzzes and drones, glitches and slithers, eventually careening into unexplored musical territory.
"Pleasure-Voltage" was born in the mind (and studio) of BENJAMIN FINGER – a composer, electronic music producer, DJ, photographer and film-maker based in Oslo / Norway who in recent years has become quite a prolific artist, expanding his stylistic palette from piano miniatures and off-kilter pop experiments to lysergic, dream-like sound collages spiced with gentle warmth and sublime melody. These ingredients are also characteristic on this latest work where FINGER set the musical frame before passing it on to his inspired collaborators: MIA ZABELKA who for decades now has been involved in countless projects, be it as musician (violin / electronics), curator or founder of the international sound art centre klang.haus and who has worked with a.o. JOHN ZORN, FRED FRITH, ELECTRIC INDIGO, ROBIN RIMBAUD (SCANNER), DÄLEK or PHIL MINTON. And last but not least there's JAMES PLOTKIN who entered the scene with his first band OLD LADY DRIVERS (or OLD) on EARACHE in 1987 and later was a member of KHANATE (with a.o. STEPHEN O'MALLEY) while also exploring the areas of dark ambient and electronics by working with or remixing SCORN / MICK HARRIS,  K.K: NULL and many more.
On "Pleasure-Voltage" which had its live-premiere at the REWIRE festival 2018, the trio crafts a mesmerizing sonic world that buzzes and drones, glitches and slithers, eventually careening into unexplored musical territory somewhere between ambient / drone / psychedelia.
Benjamin Finger: synthesizers, piano, field recordings, electronic devices, alien objects.
James Plotkin: electric guitar, granular synthesis
Mia Zabelka: E-violin, electronic devices, alien objects.
Mixed by James Plotkin
Mastered & vinyl cut by Rashad Becker at D&M, Berlin