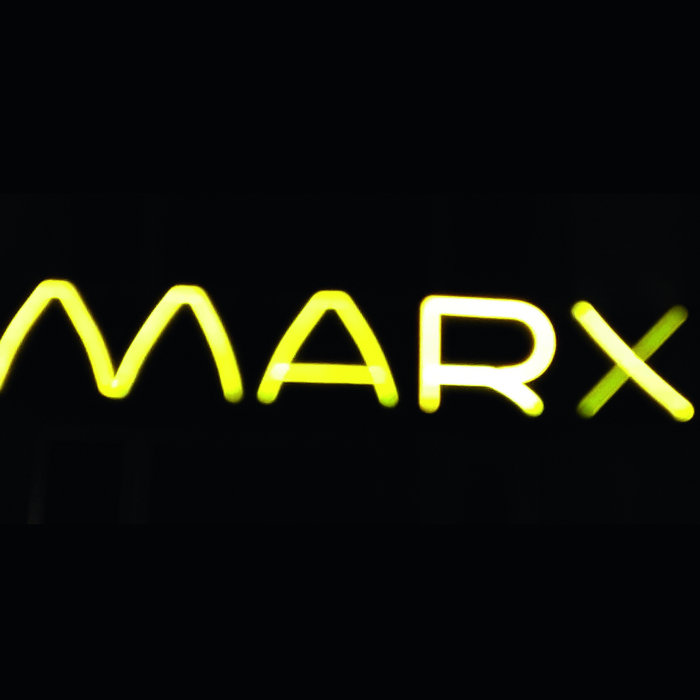 VARIOUS ARTISTS: Karl Marx's 200th !
Format: 2CD digipak / download
Release date: june 8th 2018
https://karlrecords.bandcamp.com/album/karl-marxs-200th
28 artists celebrating the 200th anniversary of the great philosopher and economist KARL MARX on may 5th with a benefit compilation! Exclusive / previously unreleased tracks by AGF, AIDAN BAKER, FRANK BRETSCHNEIDER, NATALIE BERIDZE, SCHNEIDER TM,  KAMMERFLIMMER KOLLEKTIEF, REINHOLD FRIEDL, JASMINE GUFFOND, CASPAR BRÖTZMANN, ANDREAS REIHSE (KREIDLER)  and many more.
In times of an untamed capitalism, seemingly endless greed and persisting exploitation of underprivileged humans, the 200th anniversary of KARL MARX is a welcome and necessary reason to remember the great philosopher's and economist's theories on capitalism and to re-think the state of the world of today, look out for alternative ways of economic organization and appropriate means to bridge the gap between rich and poor.
28 artists express their upset with the current state of society by contributing a track to this benefit compilation – with one exception, these tracks are exclusive or previously unreleased, adding up to 2 hours of experimental music from diverse genres like ambient / drone, electronics, electro-acoustic, noise, contemporary music etc.
Besides the music, "Karl Marx's 200th !" provides essays and philosophical reflections by NINA POWER (The Guardian, Wire), KERSTIN STAKEMEIER (professor for art theory and -mediation at the Academy Of Fine Arts Nuremberg),  feminist philosopher EWA MAJEWSKA, artist ME RAABENSTEIN and ALEX GAWRONSKI (Sydney College Of The Arts / University Of Sydney).
ALL REVENUES from the sales of the CD / DL will be donated to:

# Berliner Obdachenlosenhilfe            # Pro Asyl e.V.
THANKS to:
# Helmut Erler at D&M Berlin who took care of the mastering for free in his spare time
# Ed Benndorf / dense promotion for handling the press work for free
Tracklist:
1-1       Andreas Reihse – Antikapitalist
1-2       Natalie Beridze – Mapping debris pattern
1-3       Aidan Baker – Sommerhaus
1-4       Kammerflimmer Kollektief – Wir bauen die Maschine um!
1-5       Jasmine Guffond – Niche service
1-6       Nicolas Wiese – The revolution will have been youtubed #2
1-7       ME Raabenstein – Language is a spy
1-8       AGF – Capitalism crashed (Karl Marx RMX)
1-9       Hans Castrup – Produktiv.Kräfte
1-10     Gitter – Webt, spinnt, bohrt, dreht, baut, schaufelt
1-11     Yr Lovely Dead Moon – Kali
1-12     Frank Bretschneider – 50% positiv waghalsig
1-13     Pharoah Chromium – Der Zerfall des Systems
1-14     Caspar Brötzmann – Marx crash
2-1       Alexandre Babel – Karlstag
2-2       Marc Weiser – Kapital
2-3       Jens Pauly – Erinnern_rework
2-4       Dominika Jerkic – Form – Auflösung des Bestehenden
2-5       Narrow Bridges – Making this now
2-6       Nickolas Mohanna – La semaine sanglante
2-7       Philippe Petit – Engels of Death Metal
2-8       Seda Mimaroğlu – Circuitous
2-9       Reinhold Friedl – Mehrwert for-of James Whitman
2-10     Wi Tiarks – Circusization
2-11     Schneider TM – Hand in den Mund
2-12     Guido Möbius – Werkzeug und Ressource
2-13     Porya Hatami – Senior's "last hour"
2-14     Warnings – Juif